GILAMOTOR.com – Naked bike BMW S 1000 R ini mulai menggoda penggila moge di Indonesia melalui tampilannya yang agresif dan sangar.
Tak hanya tampilan, tenaga yang diproduksi mesin 999 cc 4 silinder ini pun lebih dari cukup untuk menghentakkan pengendaranya meski tenaganya telah di-reduce dari luaran tenaga aslinya di mesin yang digendong S 1000 RR HP4.
BMW S 1000 R menggunakan basis mesin superbike S 1000 RR yang punya luaran tenaga hingga 193 hp pada 13.000 rpm. Sementara S 1000 R tenaga puncaknya hanya 160 hp pada 11.000 rpm.
Peruntukan yang berbeda, membuat BMW mengubah luaran tenaga mesinnya. Jika S 1000 RR untuk memberikan pengalaman berkendara di sirkuit, S 1000 R difokuskan untuk penggunaan di jalan raya perkotaan.
"Motor ini untuk digunakan di perkotaan namun dengan spek kompetisi," kata Saparuddin Taher, Motorcycle Specialist BMW Motorrad Indonesia di sela-sela grand opening dealer BMW Motorrad Indonesia di Jl. By Pass Ngurah Rai No. 3 Simpang Dewa Ruci, Kuta Bali.
"Mesinnya sama dengan S 1000 RR yang punya tenaga sangat besar, tapi naked bike ini di-reduce hanya sampai 160 hp saja karena peruntukkannya di jalan raya," ucap Heri Cahyono, Service Advisor BMW Motorrad Indonesia di Bali.
"Kalau S 1000 RR tenaganya akan sangat terasa di putaran tengah ke atas, tapi kalau S 1000 R sudah terasa galak di putaran bawah. Karena kondisi jalan raya yang stop and go membutukan respon yang agresif sejak di rpm rendah," tambahnya.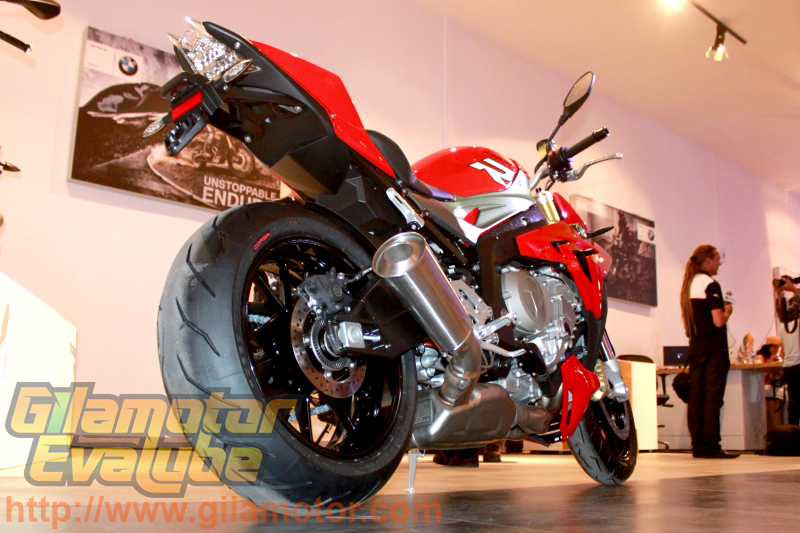 Meski mengalami penunuran tenaga dari versi superbike nya, S 1000 R dilengkapi fitur seperti varian S 1000 RR HP4 (Hi-Performance). Salah satunya adalah Dynamic Damping Control pada suspensinya yang akan memberikan kenyamanan dan keamanan pada saat melibas tikungan, motor akan lebih stabil.
Fitur lain yang disematkan pada naked bike ini adalah mode pengendaraan Rain dan Road yang masing-masing mode pengendaraan itu disandingkan dengan fitur keselamatan ABS [Antilock Brake System] dan ASC [Automatic Stability Control]. Dua fitur itu jadi fitur standar BMW S 1000 R.
BMW menekankan, "Tanpa kontrol, tenaga tak ada artinya". Karena itu, dua fitur itu dijadikan sebagai fitur standar yang akan memberikan keyakinan berkendaraa, berakselerasi maupun deselerasi. Kedua fitur itu bisa diaktifkan dan dinonaktifkan.
BMW Motorrad Indonesia memasarkan naked bike ini seharga Rp 399 juta off the road.